In the market for an aquarium, but don't have the space for a large one? No worries. The biOrb Flow 30 Aquarium is compact enough to fit just about anywhere. It also comes with five-stage filtration, is easy to set up, and features built-in lighting.
While some have had issues with the filtration system and complained about the cost of upkeep, let's take a look at the whole picture. Then you can decide whether the biOrb Flow 30 Aquarium is right for you.
biOrb Flow 30 Aquarium: The Details
Specs
Weight: 2 lbs.
Dimensions: 15.4 x 10.2 x 15 inches.
Capacity: Eight gallons.
Lighting: Built-in LED light.
Glass or Acrylic: Acrylic.
Accessories: biOrb 12V transformer, biOrb air pump, air stone, ceramic media, filter cartridge, water conditioner, beneficial bacteria liquid, standard LED light.
Warranty: Two-year limited warranty.
Features
Capacity
The biOrb Flow 30 Aquarium can hold up to eight gallons of water in its tank. This is a little smaller than the average set-up you may find in pet stores, but it provides ample room for one or two good-size fish. There's also enough space to include plant life, rocks, and any other aquatic decor you may want shining up your tank.
Smaller fish, around an inch or two in size, can live more easily in this size tank. About six 1.5 inch fish can coexist in the biOrb Flow 30, given that they're the same species or a few compatible species.
This is also a great tank for a single betta fish, and maybe a few shrimp to help keep the tank clean.
Five-Stage Filtration
This aquarium also includes five-stage filtration. Specifically, this is biological (ceramic), mechanical (foam), and chemical filtration, along with water stabilization and oxygenation. The chemical, biological, and mechanical filtration works to remove debris, impurities, chemicals, discoloration, and any odors from the water. Meanwhile, the stabilizer controls the pH and the oxygenation cycles air into the water. The chemical, biological, and mechanical media are stored in one filter cartridge, so it can be easily replaced.
Replacing the filter is really easy with biOrb too – simply twist off the old filter cartridge and twist on the new one.
LED Lighting
The biOrb Flow 30 also features a built-in LED light to illuminate the tank. It can't be set for day- or night-cycle and doesn't change colors – like some other aquarium kits – but it can be turned on or off depending on your needs. It's a pretty standard LED light that'll give your fish the brightness they need throughout the day. As a plus, the LED bulb has a great lifespan: up 50,000 hours.
LED lighting is very energy efficient and also doesn't create a lot of heat. In warmer areas, this is ideal. In cooler areas, you may need a tank heater, since the lighting doesn't create much heat for your aquarium.
Pump
The pump that's included with the Flow 30 aquarium helps to circulate the water through the tank, to the filtration system, and back out again. It's low voltage, ensuring it won't use excessive power. As a plus, it's compatible with all biOrb aquariums, so if you purchase a new one in the future, it can easily be transitioned to the next set-up.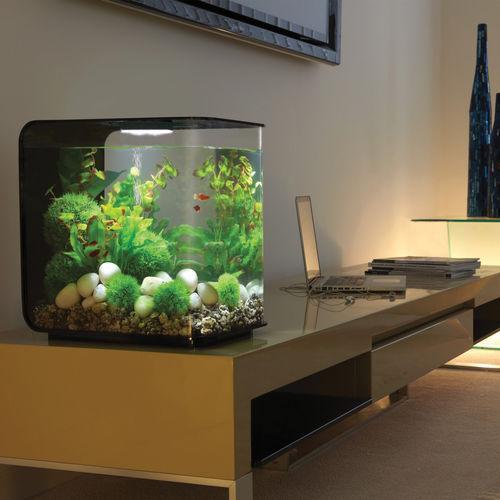 Acrylic Tank
The tank of this biOrb aquarium is composed entirely of acrylic. This boosts its durability, ensuring it won't crack or scratch as easily as glass. It is also lighter in weight and much clearer, so you can enjoy prime views of your fish no matter the conditions. Glass can also distort the view of your fish, while acrylic doesn't.
The acrylic is listed to be 10 times stronger than glass, along with being 50% lighter in weight than glass and 93% clearer. Thick glass always has a greenish tint, but acrylic does not have that problem – it's the clearest, most transparent material available.
The acrylic is also covered by a 2 year warranty, so if it doesn't hold up, it will be covered.
biOrb Flow 30 Aquarium Review
The Positives
Easy to Set Up
Setting up the biOrb Flow 30 Aquarium could not be easier. Once it's unboxed, you should place the tank on a strong, level surface. You don't want it falling or tipping over!
Next, insert the filter cartridge into the filter and then twist it onto the base of the bubble tube. Insert the filter and bubble tube component into the bottom of the tank. Turn the bubble tube until it locks into place.
Wash the ceramic media and then place it around the body of the filter. Next, connect the airline to the pump and place it above the tank's water line. Plug the pump and lighting unit into separate sockets on the transformer, and then plug the transformer into the closest outlet. Fill the aquarium with water and turn on the transformer.
Add the water conditioner, but wait 24 hours to add the biological booster. After that, you can add in your fish!
Easy to Maintain
Maintaining this aquarium is very straightforward. Every three to four weeks, you should remove ⅓ of the water and replace it. Make sure to add water conditioner to the new batch, so it doesn't contaminate what's already there. Every four to six weeks, buy a new filter cartridge to replace the old one.
The air stone will also need to be replaced every six months, as it will begin to halt the water flow.
To clean the tank, simply use a soft cloth or purchase a plastic scratch-and-polish kit. Some users even added a snail to their tanks for cleaning purposes!
Compact
Based on tester feedback, the biOrb Flow 30 Aquarium can go just about anywhere. It's small enough to fit nicely in a cramped apartment or tiny bedroom. Since it's more vertical than horizontal, it has a greatly reduced footprint when compared to other aquariums, and can therefore be placed on a small table, on a shelf, or in a corner out of the way.
Good Design
Testers also really enjoyed the sleek and modern design of this tank. It's more of a cube shape than a rectangle, which saves on space and boosts its unique aesthetic. Additionally, it's clear on three sides, while the back panel is black to ensure your fish and plant life are easy to see.
The unique shape of this tank means it will be the first thing your friends and family see when they enter the room. With its contemporary design, it will fit with any type of decor you have.
Because it's a simple but modern design, any plants or decorations you add to the tank will really stand out. It's not a large enough tank to hold lots of fish or aquatic creatures and also will not hold lots of plants, but it's a striking shape and the simplicity of the tank design will highlight the contents.
Any customization you add to this tank will look amazing – it can match any style and will fit almost anywhere.
Convenient
This aquarium makes it extremely convenient to feed your fish and change the filter. There is a feed hole in the lid of the tank, so no dismantling is required to sprinkle in the food. Also, since nearly all the media is included in the filter cartridge, you need only remove and replace that instead of cleaning out all the media individually.
In addition, the secure lid is also convenient in terms of fish safety. Some fish jump! To avoid finding your beloved fish struggling on the floor, it's recommended that you keep a fixed and secure lid on the tank when housing some species that are more prone to jumping.
The way this biOrb tank is designed actually helps with containing possible jumpers – once you shut the feed hole, it's a secure tank for any potentially-airborne species.
It's worth noting that if your fish are jumping, you may need to check if they're stressed. But barring that, you can rest assured that they won't escape the safety of the tank for the danger of the floor.
Durable
Since the Flow 30 has an acrylic tank, it's far more durable than its glass counterpart. It's less likely to scratch, won't crack or shatter, is securely sealed to prevent leaks, and can simply take more wear and tear than a glass aquarium. You'll have it for years to come. As a plus, when matched to its small build, this makes it effortless to move from one area to the next.
Plus, like we mentioned before – the acrylic is covered by a 2 year warranty. So even with a highly durable material like the acrylic used in the biOrb tanks, the company still backs it for 2 years.
The Negatives
Filtration Issues
There have been reported issues with the filtration system. It appears that, while the five-stage set-up is thorough, a number of defective models have escaped the manufacturing process. As such, you may find algae build-up or water discoloration, requiring you to manually clean the tank more often. If you encounter this problem, you can always redeem your warranty for a replacement kit or filter.
If you receive a well-built model, it should serve you well. Otherwise, don't be afraid to use that warranty and get a replacement – that's what it's for!
Expensive Upkeep
Since you have to replace the filter every four to six weeks, that's an added expense to keep the aquarium up and running. The filters are relatively cheap, but when you have to purchase new ones each month, it does add up. Make sure you factor this into your hobby budget before making a decision.
Some users were surprised by the frequent changes and didn't factor the filter costs into their budget, which left them disappointed in the costs. To avoid potential disappointment, we wanted to give you a heads up that the filters are specific to this brand and do need to be replaced regularly!
Overall Verdict
After going over all the positives and negatives, we do recommend the biOrb Flow 30 Aquarium. With the easy set-up and compact tank, you won't find another aquarium like this on the market. So long as you keep an eye on the filtration, you should have no issues whatsoever.
Where to Buy the biOrb Flow 30 Aquarium
The biOrb Flow 30 Aquarium is available from a number of online retailers.
Oase ($149)
Dream Fish Tanks ($149)
Marine and Reef ($148)
And of course, it's available on Amazon.
---
That's it for the review of the biOrb 30 Flow Aquarium. Are you going to try it out?
biOrb 30 Flow Aquarium Rated
Build Quality

Accessories

Design

Ease of Use

Value for Money
Fish Care Guide Verdict
We like the biOrb 30 Flow Aquarium for the easy set up, compact tank, and modern design.